Serving the Homeownership Finance Community for 40 years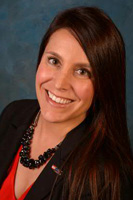 As I look forward to my last few months as President of the Mortgage Bankers Association of Louisville, I can't help but also look back at all we have accomplished so far this year.
We had an amazing Taste of Homeownership event, thanks to Brad Alvey and his fundraising committee. We have volunteered man hours at Blessings in a Backpack and Life House, thanks to Beth Rojas. We have packed our luncheons each month with both familiar faces, and new ones, thanks to Jennifer Fahling's programming efforts. Julie Domian-Ernst, and the Membership Committee, have knocked it out of the park again this year. Every single one of our current board members, and every single one of you, have worked hard and put forth considerable effort to make MBAL even stronger in 2018 and I thank each of you.
We are planning a fantastic November Veteran's luncheon (Nov 8) and a wonderful December Holiday Party (Dec 8). Our pinnacle event – the MBAL Gala – will be held on Jan 31. Mark your calendars now – you won't want to miss any of these events!
I appreciate the welcoming arms to get more involved in this great organization, and I appreciate the candid feedback I have received through this year. In part due to your suggestions, we spoke more openly about the nominations process and I am pleased to say we will be welcoming a new face to our Board of Directors next year. We have slated programs based on suggestions from our members. And we will be revamping the way that we fund-raise at our luncheons next year, thanks to your feedback as well. More on that to come. I also thank Pat Durham from the Building Industry Association of Louisville and Lisa Stephens from the Greater Louisville Association of Realtors for spearheading more involvement with MBAL from their respective organizations. Our voices are louder when we are one.
Thank you, again, for allowing me to serve you and this meaningful organization. I have met some of the most wonderful people at MBAL and I am thankful every day for that. As we wind the year down, and holidays approach, I encourage each of you to reflect on your blessings and your friends/family. Hold them near and dear and celebrate your time together.
Lastly, I extend the heartiest of congratulations to our elected members of 2018's Board of Directors:
President: Peter Nesmith
President-Elect: Brad Alvey
Immediate Past President: Ashley Haury
Past President: Trish Dewitt
Secretary: Julie Domian-Ernst
Treasurer: Sharon Decker
Associate Director: Beth Rojas
At-Large Corporate Directors: Jamie Swindler and Barb Jeffries
Cheers to a fantastic end to 2017 and a prosperous 2018!
— Ashley Haury, 2017 President